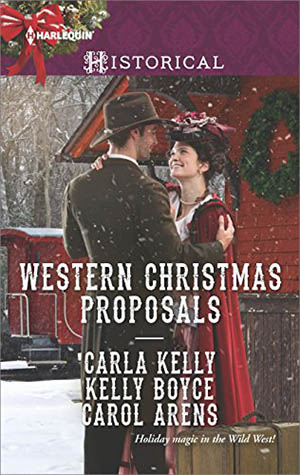 A RING, A KISS AND A CHRISTMAS WISH
THREE DELICIOUS SEASONAL STORIES
CHRISTMAS DANCE WITH THE RANCHER by Carla Kelly
Stranded, Katie becomes chore girl on Ned Avery's ranch. He shows her unexpected kindnessand in exchange, she teaches him how to dance!
CHRISTMAS IN SALVATION FALLS by Kelly Boyce
Willa Stanford moved to Salvation Falls to start afresh, but then the past—in the shape of her former sweetheart—arrives at her door.
THE SHERIFF'S CHRISTMAS PROPOSAL by Carol Arens
When widower Roy Garner falls for lovely Belle Key, he's hoping for a very happy Christmas. Until he discovers Belle's dark secret…
Information
ASIN: B01CCJWTYG
Publisher: Harlequin Historical
Publication date: 10/01/2016
Pages: 288
Order Links