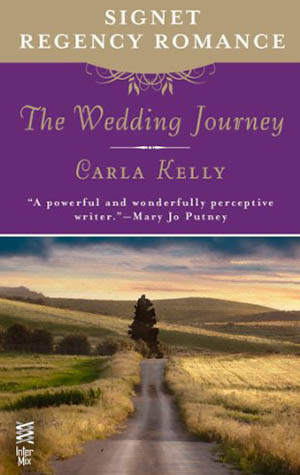 A marriage for protection in the midst of a wartime retreat becomes the passion of a lifetime in this classic Signet Regency Romance from Carla Kelly.
Set against the vivid historical background of the Napoleonic Wars, The Wedding Journey is the unforgettable story of Captain Jesse Randall, assistant surgeon of Marching Hospital Number Eight, and his undying love for beautiful, young Nell Mason. A battlefield is no place to wage a campaign of love, and even if it was, Jesse is far too shy to ever confess his love to Nell, who helps the surgeons in the field hospital.
Her father, Captain Bertie Mason, is a compulsive gambler, and when Nell's mother dies, he desperately agrees to marry her to the despicable Major William Bones to relieve his crushing gambling debts. To prevent such a fate, Jesse hastily weds Nell. He doesn't dare hope she'll ever return his devotion.
A marriage on the front lines of the Napoleonic Wars would be difficult enough, but now Major Bones is out for vengeance. As the British army retreats from Burgos for Portugal, Jesse, Nell, and a handful of the sick and stragglers are left behind to fend for themselves. The newly married couple must now draw on all their strength to survive and save their small band, and somehow nurture a love that can endure the most trying of journeys.
Information
ISBN-13: 9781101578919
Publisher: Penguin Group (USA)
Publication date: 2/19/2013
Format: ebook
Order Links